2019 Toyota 86 Walk Around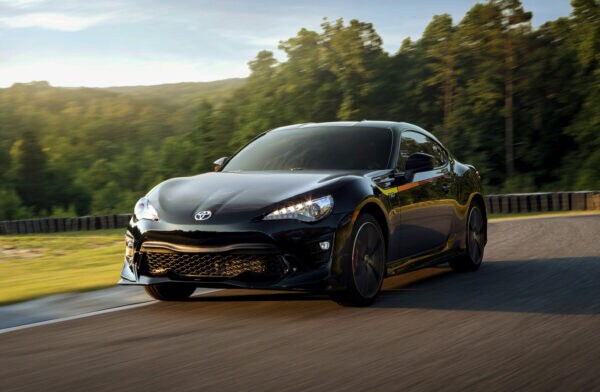 The 86 has excellent proportions, with a long hood, low and wide stance, sloping roof, flared fenders, angular front end and tidy rear end. It's smoother and better looking than the Subaru BRZ, although when parked next to a Mazda MX-5, it comes off as somewhat vanilla. The TRD Special Edition package adds some pizazz with red and yellow trim.
Interior
The spartan cabin is clean and well organized, with everything in an intuitive place and easy to reach, namely the climate and infotainment controls. The gauges are minimalist but complete, showing the information a sports-car enthusiast wants to see. The quality of the materials is good. Like the exterior, the interior lines flow, with metallic trim and faux carbon fiber adding a touch of character. The new optional two-tone red-and-black upholstery with red leather steering wheel contrasts nicely with the simple exterior colors like black, white, and gray.
The front seats are well-bolstered, and there's enough head and leg room for a tall driver. Technically there is a rear seat with two seatbelts, but only small kids can fit.
The trunk is a small 6.9 cubic feet, but Toyota marketing points out that the 86 can fit two spare tires in back with the rear seats folded flat, for track days. Never mind that, with the modest power of the 86, if you have to replace tires at a track day, then you showed up with worn-out tires in the first place.