2018 Toyota Prius Walk Around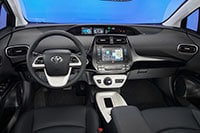 The redesign for 2016 transformed three-fourths of the Prius, sculpting the nose and sides, and making it longer, lower and wider. The black roof pillars made the roofline float. The new body gave the prosaic Prius swoop and sedan stature. The aerodynamic and still egg-shaped Prius now looks distinctive.
But the rear end got excessive in the details, with non-cohesive arcing lines at the outside edges of the taillamps; in that the c-shapes flow forward, widening the rear end and making it look higher. But maybe giving the Prius an uplifting butt was intentional. The bottom of the bumper is blacked out, which helps bring it down, but the rear clearance still looks high. Aerodynamics at work.
Interior
If those curves on the hatch are non-cohesive, some of the cabin details are downright conflicting. The plastics, textured or glossy, are questionable, and the bins are clunky. But the shape of the dashboard wrap is stylish, the way it wraps to the doors makes the interior look clean and sophisticated; and we like the instrument display with upmarket color screen, and the way the console sweeps into the big standard touchscreen, even bigger at 11.6 inches on upper models.
The cabin feels sporty, like a compact or mid-sized hatchback. The available two-tone beige and gray upholstery looks adult, but the optional pearlescent-white center console scratches easily (there's an optional $200 cover for it).
The front seats are reasonably well bolstered and comfortable. Higher models get eight-way power adjustment with lumbar support.
Most passengers will fit in the back, but the slope of the roofline squeezes headroom for tall people. The bolsters on the outboard rear seats push those occupants to the middle, further squeezing that third person in the rear. But there's decent legroom, with 33.4 inches. The battery packs are neatly located under the seat. Both the nickel and more explosive lithium.
The rear seats split and fold. If the liftback hatch design limits headroom in the rear seat, it makes up for it by opening up big cargo space, more than 27 cubic feet.