2018 Toyota Prius Driving Impressions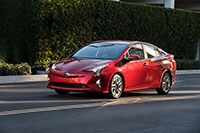 The 1.8-liter internal combustion engine makes 95 horsepower, and the 53-kilowatt electric motor makes a total of 121 horsepower combined. It's pokey. Despite its years of development, the Toyota engine is less refined than the Chevy Volt's. It's quieter than it used to be, but it still lets you know you're in a Prius.
The good news is that the ride makes you forget you're in a Prius.
The continuously variable transmission, or CVT, is pokey; deliberately so, because it's programmed for efficiency not responsiveness. The object is fuel mileage.
The chassis got more rigid in 2016, but the steering still feels like a limp handshake. It can't interest the driver.
The braking, both regenerative and friction, is fairly seamless and confident.