2017 Toyota 4Runner Driving Impressions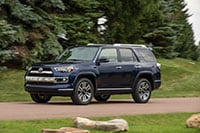 The 4.0-liter V6 engine with five-speed automatic delivers decent acceleration, and the 278 pound-feet of torque meets the offroad or towing demands. The transmission holds its own for a five-speed; it shifts quickly, though it lacks the number of gears offered by the competition.
Given its off-road capability, the 4Runner is impressively responsive on pavement. Steering and maneuvering unexpectedly delightful, unexpectedly if you're not familiar with 4Runners, that is. At a crawl, it handles with precision and control, important when creeping through a boulder field.
The SR5 with the base suspension can be bouncy on patchy pavement, and it leans more in the turns. If you're driving it outside its comfort zone, it will let you know that it's still a truck with tall sidewalls and a soft suspension. Optional active dampers broaden that comfort zone.
The 4Runner is surprisingly free of wind noise for its boxy shape, and it's there's little road noise thanks to the soft suspension.
What the 4Runner lacks on the road, it makes up for off the road. There are differences in the 4WD systems among the different models. Limited models get full-time 4WD that's geared for the road, along with active dampers that smooth the bumps and level out cornering, called X-REAS. The X-REAS suspension enhancement is a nice setup if you like to drive briskly on winding paved roads.
The TRD Off Road model offers as an option the Kinetic Dynamic Suspension System, using hydraulics to add stability on the road, and more traction with more wheel travel off the road.
The TRD Pro is another animal, maybe a wild one. It uses a tweaked suspension with reworked springs and Bilstein remote-reservoir dampers, Nitto all-terrain tires, skid plates and other TRD parts. We've had some off-road time behind the wheel, and it aced every test we put it to.
Another element 4Runner brings to the table is durability. It's hard to measure but 4Runners appear to hold up better to repeated use through boulder fields and other rugged terrain that would leave any crossover on the side of the trail.