2013 Toyota RAV4 Summary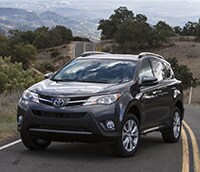 Redesigned and re-engineered, the 2013 Toyota RAV4 delivers function, comfort and usability. It's better than the old car by a decent amount, and it will still do exactly what a small SUV should. Unfortunately, it won't do any more than that, and it isn't fun to drive. It also, most definitely, won't handle off road.
Alex Lloyd filed this NewCarTestDrive.com report after his test drive of the Toyota RAV4. Alex is based near Indianapolis.